A FREE Ezine from Yoga Technology
ASTROLOGY * SPIRITUALITY * MEDITATION * KUNDALINI YOGA
Published in English and Spanish
Editor: Guru Rattana, Ph.D.


New Millennium Being - opening a new window on Astrology - is a Free Ezine, containing a unique and fascinating synthesis of Astrology, Spirituality, Meditation and Kundalini Yoga. Aries and Taurus
Month by month we unravel the mysteries of Astrology, and provide you with insights on how star signs, planetary energy and astrological events can impact on you, and effect your life. In each main issue we also provide a suitable meditation, to help tap the powers of the current astrological sign.
The easy, clear and informative style of author, Guru Rattana, Ph.D., makes it suitable for folk at all levels, astrologers and non-astrologers alike. G
"Guru Rattana's pragmatic and grounded approach and presentation of the science of astrology does much to further its reputation and, thus, acceptance." - Michelle
Guru Rattana, Ph.D. has followed a committed spiritual path for 30 years, the last 22 of which she has studied under Yogi Bhajan. A prodigious author, she has a total of 8 books to her credit, as well as numerous papers and articles. Guru Rattana hassgiven hundreds of workshops and classes on personal empowerment, featuring Kundalini yoga and meditation. She has studied astrology for over 10 years. Leo and Virgo with Libra.
If you are interested in yourself, your inner peace and freedom, the role you can play in creating a sustainable world and are looking for powerful techniques that can help you achieve these goals, this ezine is for you.Scorpio and Sagittarius with Pisces.
"I cannot possibly tell you how impressed I have been with your astrological newsletter. I have been an avid reader of astrology books and have taken classes with big name astrologers since 1967. In sum, I know when something is good. And your bulletins ARE GOOD! I hope the law of abundance blesses you for putting such positive information into the hands of so many for nothing! I hope you will do all 12 signs and make it into a book."


- Marylou Spence Schroeder

Back Issues
Volume 1
Volume 2
Volume 3
Volume 4
Volume 5
Volume 6
Volume 7
Volume 8
Volume 9
Other Pages:
Great Links to Astrological & Other Sites
Check out our Kundalini Yoga books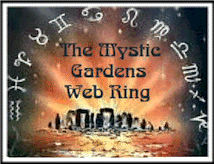 This Mystic Gardens Members WebRing site owned by Gordon Lamb.
[ Previous 5 Sites | Previous | Next | Next 5 Sites | Random Site | List Sites ]